Gene Vincent and my dad were 1st cousins. Gene's mom and my grandmother were sisters. This is a taylor township days record review presented by Robin Seymour. It has 8 pages of pictures and info. Gene autographed his picture. It also has pictures of the blue caps. Cliff Gallup, Jack Neal, Willie Williams and Dickie Harrell. The Four Coins, Bunny Paul,and the Loreleis.There is some light stains on the cover and on the back.This booklet is in very good condition. It was giving to me by my dad about 20 years ago. I know the autograph is real. This booklet has ben in my family ever since Gene autographed it. Look it over real good. THERE WILL BE NO REFUND.
| | |
| --- | --- |
| 249,00 USD | |
| | (environ177,80 EUR) |
http://cgi.ebay.fr/Gene-Vincent-Autographed-Booklet_W0QQitemZ160341121180QQcmdZViewItemQQptZLH_DefaultDomain_0?hash=item255513589c&_trksid=p3286.c0.m14&_trkparms=65%3A10%7C66%3A2%7C39%3A1%7C240%3A1318%7C301%3A1%7C293%3A1%7C294%3A50
-------------------
je vais envoyer le lien a Tina pour voir
_________________
Vous etes ici sur le forum
VISITEZ LONELY STREET :
GENE VINCENT
--- NEW !! http://genevincentfanclub.weebly.com/  le site
Le Fan Club Lonely Street sur Myspace international :
http://www.myspace.com/genevincentfanclubfr
RETROUVEZ NOUS SUR FACEBOOK !! https://www.facebook.com/pages/GENE-VINCENT-FAN-CLUB/228785458542
Gene's life year by year with pictures !
MAIL Joindre Lonely Street : genevincentfanclub@yahoo.com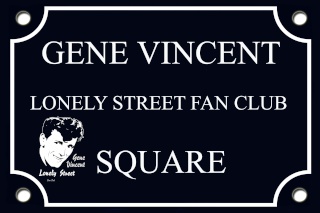 Lee-Loo