Cliff Gallup

From Wikipedia, the free encyclopedia


Clifton[1] E. "Cliff" Gallup (June 17, 1930 - October 9, 1988) was an influential American electric guitarist, who played rock and roll in Gene Vincent's band The Blue Caps in the 1950s.
In 1956, DJ Bill "Sheriff Tex" Davis heard Gene Vincent performing on local radio in Norfolk, Virginia, became his manager, and put together a band of local musicians, including Gallup, to back him. Little is known of Gallup's work in local bands before that point. In May 1956, the band recorded in Nashville. Producer Ken Nelson had session musicians standing by in case the band was not up to par, but as soon as Gallup played the solos on "Race with the Devil" they knew they would not be needed[2].
Gallup played on 35 tracks with Vincent, including his biggest hit "Be-Bop-A-Lula", and established a reputation as one of the most technically proficient guitarists in early rock and roll. He used a flat pick in conjunction with fingerpicks on his middle and ring fingers, using his little finger to work the vibrato bar. According to one source, Gallup's trademark sound was produced by echo units he constructed himself from old tape recorder parts[2], but according to another source it was an accident created in the studio by Nelson[1].
As a married man, Gallup was reluctant to tour with Gene Vincent, and left the band in late 1956, returning only for some more studio recordings in 1957. In the mid-1960s he made a solo album for the local Pussy Cat label in Norfolk, Straight Down the Middle, in a more mellow instrumental style akin to Chet Atkins and Les Paul. He occasionally played with local bands, while working in school maintenance.
At the time of his death from a heart attack in 1988, he was the Director of Maintenance and Transportation for his regional school system. At the request of his widow, obituaries in local newspapers made no mention of his time with The Blue Caps. He is remembered principally for his influence on such guitarists as Eric Clapton and Jeff Beck, who made an album-length tribute to Gallup, Crazy Legs, in 1993[3].
_________________
Vous etes ici sur le forum
VISITEZ LONELY STREET :
GENE VINCENT
--- NEW !! http://genevincentfanclub.weebly.com/  le site
Le Fan Club Lonely Street sur Myspace international :
http://www.myspace.com/genevincentfanclubfr
RETROUVEZ NOUS SUR FACEBOOK !! https://www.facebook.com/pages/GENE-VINCENT-FAN-CLUB/228785458542
Gene's life year by year with pictures !
MAIL Joindre Lonely Street : genevincentfanclub@yahoo.com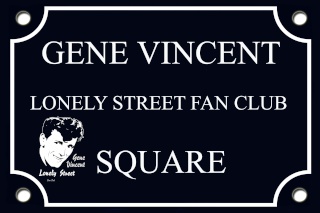 Lee-Loo