>>>> http://www.rockandswing.fr/gene%20vincent.htm
Vincent Eugène Craddock, alias Gene Vincent,
est né en Virginie, USA, le 11 février 1935. Il apprend la musique au contact de la communauté noire : le style vocal du jeune Gene est très influencé par le rythm'n blues et le gospel.
Alors qu'il s'était engagé dans l'armée, en trichant sur son âge, il eut un accident de moto en juillet 1955 qui faillit entraîner l'amputation de sa jambe gauche. Grâce au soutien de sa mère face aux médecins, il conserva sa jambe qui dut être appareillée: une armature métallique en maintenait les morceaux en place.
Lors de sa convalescence, sa route croise celle d'Elvis Presley. Fut- ce cette brève rencontre qui affirmera la vocation de rockeur de
Gene Vincent
? Toujours est- il qu'il créé quelques mois plus tard ce grand manifeste du rock'n roll : "Be Bop A Lula". Ce titre sera la face B de son premier disque, un sigle 45 tours dont la face A était
"Woman Love"
: premier succès, 200.000 exemplaires vendus en un mois.
Gene Vincent et les Blue Caps deviennent des stars du Rock !
Le succès durera deux ans, puis Gene s'exile en Angleterre en 1959 pour poursuivre en Europe sa carrière de "rockeur sauvage": c'est son imprésario anglais qui l'habille entièrement de cuir noir, un médaillon d'argent autour du coup. Sa jambe le fait fréquemment souffrir et cela empire après un accident de voiture. Après une tournée avec
Brenda Lee,
en 1962, G
ene Vincent
est en panne de succès. A la suite d'un baroud d'honneur, qui n'améliore pas son état de santé, il renonce à la scène. Il meurt en 1971 d'une hémorragie interne, laissant quatre veuves éplorées. Ses derniers enregistrements (la partie vocale de quatre chansons) sortiront neuf ans plus tard...
Gene Vincent-She She She Little Sheila
envoyé par 50srealm
Gene Vincent - Be Bop A-Lula
envoyé par 50srealm
Gene Vincent Lonely Street
envoyé par 50srealm
Gene Vincent - Baby Blue
envoyé par 50srealm
Gene Vincent Capital-Lonely Street
envoyé par 50srealm
Gene Vincent - Roll Over Beethoven
envoyé par strayvick
Gene Vincent - Dance To The Bop
envoyé par strayvick
Gene Vincent - Sexy Ways
envoyé par Roselyne14
VIDEO - Gene Vincent - What'd I say
envoyé par fisher35
mais qui c'est cette 50srealm qu'on voit partout !!
_________________
Vous etes ici sur le forum
VISITEZ LONELY STREET :
GENE VINCENT
--- NEW !! http://genevincentfanclub.weebly.com/  le site
Le Fan Club Lonely Street sur Myspace international :
http://www.myspace.com/genevincentfanclubfr
RETROUVEZ NOUS SUR FACEBOOK !! https://www.facebook.com/pages/GENE-VINCENT-FAN-CLUB/228785458542
Gene's life year by year with pictures !
MAIL Joindre Lonely Street : genevincentfanclub@yahoo.com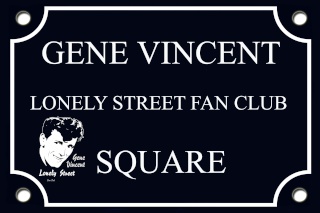 Lee-Loo