si quelqu'un peut resumer pour ceux qui ne comprennent rien à l'anglais ...
-----------------------
Back to the 50's with Eddie Cochran






The Low Bucks Car Show & Eddie Cochran weekend are held each June.


Information on the 2008 show & weekend will be posted here when it becomes available.



Here's the schedule for 2008

Friday
Cruise in social at the Country Inn & Suites 6 - 9:00 p.

m
Cruise-in trophies by Country Inn & Suites: "Oldie But Goodie", "Peoples Choice", and "Long Distance".


FREE drive-in theatre at the Freeborn County Fairgrounds... open to the public

Saturday (show, cruise, dance)
*22st annual Low Bucks Car Show & Swap meet at Freeborn County Fairgrounds. Registration 8 - 12 noon. Show time 12 -4:00pm. Trophies awarded at 3:30 pm...must be present to accept trophy. Show cars: $10 registration fee.


*26 mile car cruise at 6:30pm which starts at the fairgrounds. Line-up and social from 4 - 6pm. Ends on North Broadway for the Free street dance.

Cruise sponsored by Flaherty's GM Car and truck center
*Free street dance 8 - 12 after the cruise will be on north broadway (where cruise ends). Music by Don & the Beachcomers.

Sponsored by the City of Albert Lea
VENDORS & Swappers: FREE w/paid $2.00 admission...what a deal!!!!
* Hospice walk/run at 7:30am. from the Fairgrounds.



* Eddie Cochran & Marion Ross display. Fri. 10-5, Sat. 11-5 at Freeborn Cty Historical Museum.


Note: 50% of the Car Show proceeds go to the Eddie Cochran Scholarship Fund.



Sunday Public Admission is only $2.

00

* On Sunday will be the Festival of Marching Bands. Watch highschool bands compete. Location will be downtown Albert Lea at 2pm.



For more information call Ed at 507-373-4783 or Barb at 800-345-8414


Keep checking back.


When more info on the 2008 weekend is available it will be posted here.




=>> http://www.freewebs.com/cochrancarshow/makeplansfor2008.htm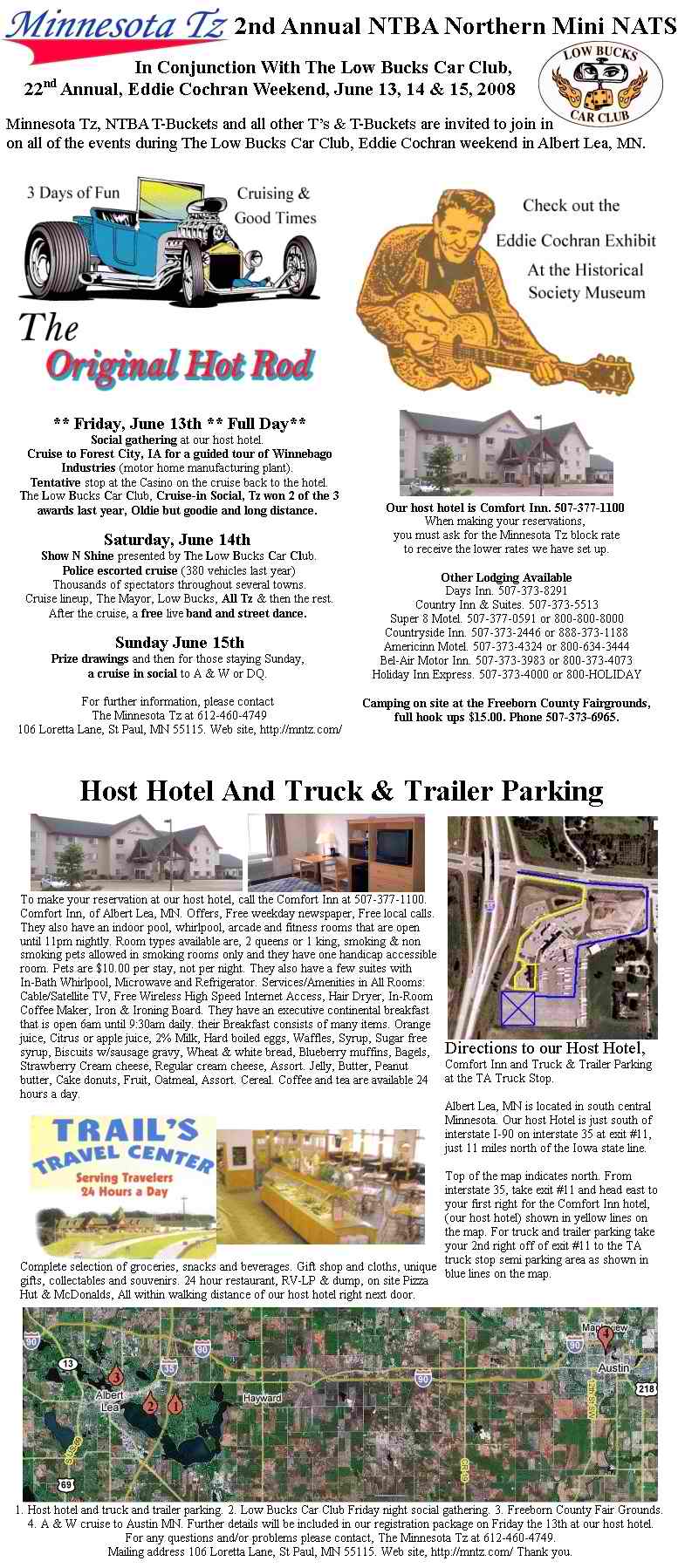 _________________
Vous etes ici sur le forum
VISITEZ LONELY STREET :
GENE VINCENT
--- NEW !! http://genevincentfanclub.weebly.com/  le site
Le Fan Club Lonely Street sur Myspace international :
http://www.myspace.com/genevincentfanclubfr
RETROUVEZ NOUS SUR FACEBOOK !! http://www.facebook.com/pages/GENE-VINCENT-FAN-CLUB/228785458542
Gene's life year by year with pictures !
MAIL Joindre Lonely Street : genevincentfanclub@yahoo.com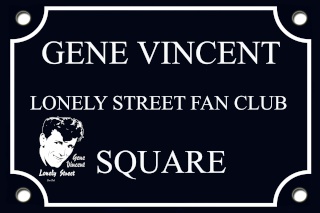 Lee-Loo