Pictured above are Dickie and Gene in 1956.
In the early years Gene Vincent & the Blue Caps drove around in a '56 station wagon with windows broken and a heater that didn't work. Two of their first live concert appearances were Myrtle Beach, South Carolina and at Folly Beach, just outside Charleston, SC. Later that year Gene and The Caps appeared on national television for the first time on the Perry Como Show.
When Dickie Harrell went out to California in 1962 to record his infamous album "Drums & More Drums" (with an orchestra - the LP actually sold 50 copies, 51 if you add in Dickie's mom) he visited with Gene. The photo on the left shows Gene's den and a wall covered with his recordings. In the earlier Portsmouth days, Gene, Tommy and Dickie would ride around, going nowhere, just because Gene was so antsy. He'd say "Let's go for a ride." "Where?" "I don't know, anywhere." Twenty minutes of that and Gene would say, "That's it, let's go back." Ten minutes later Gene starts all over again with "Let's go for a ride." "Where?" ... Dickie informs us that Gene never actually played guitar during the recording sessions during the 1950's, even though he is shown on record jackets with a guitar in hand. Gene could play basic chords, but concentrated on singing and left the picking to someone else. On stage Gene would sometime use the guitar as a prop and/or to stike an opening chord before he broke into the famous "Weelllll."
Merci Jimmy pour la traduc quand tu passeras
_________________
Vous etes ici sur le forum
VISITEZ LONELY STREET :
GENE VINCENT
--- NEW !!
http://genevincentfanclub.weebly.com/
le site
Le Fan Club Lonely Street sur Myspace international :
http://www.myspace.com/genevincentfanclubfr
RETROUVEZ NOUS SUR FACEBOOK !!
https://www.facebook.com/pages/GENE-VINCENT-FAN-CLUB/228785458542
Gene's life year by year with pictures !
MAIL Joindre Lonely Street :
genevincentfanclub@yahoo.com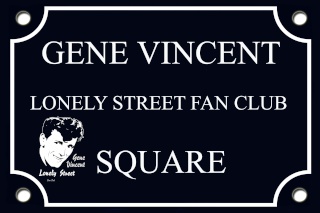 Lee-Loo